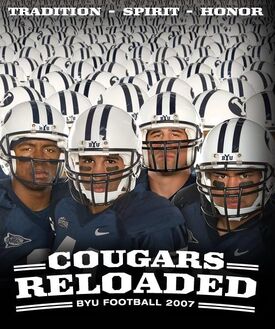 Head coach Bronco Mendenhall led the 2007 BYU team to its second-straight outright Mountain West title behind another perfect 8-0 MWC season. This was BYU's second straight 11-win season was capped with a No. 14 national ranking in both the Associated Press Top-25 and USA Today Coaches Poll. The season marked the highest finish for the Cougars in the national polls since 1996. Behind the arm of All-MWC sophomore quarterback Max Hall and the legs of Freshman All-American Harvey Unga, BYU's all-time leading freshman running back, the Cougars are the only team in Mountain West Conference history to win back-to-back outright league titles and to record back-to-back undefeated league records,To go along with their 16-game conference win streak, the Cougars boast the nation's longest overall winning streak at 10 games and have won 21 of their last 23 games. Over the past two seasons, the Cougars have not lost a single home game or a MWC game. BYU reached its second consecutive Las Vegas Bowl victory, 17-16, in dramatic fashion -- with a block on UCLA's potential game-winning field goal attempt as time expired. Mendenhall is the first coach in school history to lead the Cougars to three consecutive bowl games in his first three years as head coach. Hall, in his first year as a starter, put in the fourth best performance by a first-year quarterback at BYU to date and was the nation's top sophomore quarterback in terms of passing yards. As the nation's 10th ranked defense, the Cougars allowed just 307.2 yards per game, allowing only one 100-yard rusher all season. Unga picked up Freshman All-America and MWC Freshman-of-the-Year honors after leading the Cougars with an average of 94.4 yards per game. Defensive lineman Jan Jorgenson ranked ninth nationally with 13.5 sacks on the season.
See main page: 2007 Schedule
See main page: 2007 Roster
Community content is available under
CC-BY-SA
unless otherwise noted.