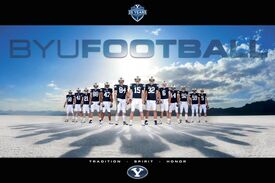 In a season featuring several signature victories, BYU achieved an 11-2 record (7-1 MWC) and No. 12 final ranking in the national polls while strengthening its tradition as one of the nation's top football programs. The No. 12 ranking is highest since No. 5 in 1996. BYU was ranked as high as No. 7 during the season, and earned highest-ever final BCS ranking at No. 14. BU was one of only six schools nationally to be ranked in both final polls and the final BCS standings each of the last four years and the only program to do so from a non-automatic-qualifying BCS conference ... won more games (43-9 record) the last four years than all but four teams in the country (Boise State, Florida, Texas and Ohio State) ... opened the season with a 14-13 win over No. 3 Oklahoma at new Dallas Cowboys Stadium and finished with a 44-20 triumph over No. 16 Oregon State in the Maaco Bowl Las Vegas, going 3-1 overall against nationally ranked opponents, including a 26-23 overtime win over No. 19 Utah ... made its fifth-straight bowl appearance for the first time since a string of 17 consecutive bowl invitations from 1978-1994 ... individually, senior tight end Dennis Pitta earned Consensus All-America honors while setting the NCAA record for most career receiving yards by a tight end (2,901) and breaking Austin Collie's school record for career receptions (221) ... Pitta was named to 10 different All-American teams ... Nine different Cougars (Pitta, Max Hall, Brian Logan, Matt Reynolds, Terence Brown, Braden Hansen, Jordan Pendleton) received various All-America recognition, including two receiving Academic All-America honors (Scott Johnson, Matt Bauman). Seven members of the team were named to the All-Mountain West Conference teams with six other Cougars receiving honorable mention. Harvey Unga became the school's all-time leading rusher with third-straight 1,000-yard season. Max Hall set BYU record for most wins as a starting quarterback with 32.
See main page: 2009 Football Schedule
See main Page : 2009 Football Roster
Community content is available under
CC-BY-SA
unless otherwise noted.