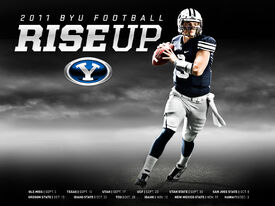 Another 10-win season made the 2011 season it a success, considering that would make the Cougars one of just six FBS schools with 10 or more wins in five of the past six seasons. In Year 1 as an independent, everybody at BYU will take that. But looking closer at the schedule reveals the Cougars have one victory over a team with a winning record. In the "big games" against three bowl teams -- Texas, Utah and TCU -- they went 0-3. Granted, Texas and Utah came early in the season, when BYU was struggling with Jake Heaps as the starting quarterback. Not all the blame can be put on his shoulders, though, because everything was going wrong on offense. The offensive line, backs and receivers were not playing well, either.
Once Riley Nelson took over for Heaps, things seemed to stabilize. And just like last year, BYU ended the season on a nice little run to get to nine wins, an improvement over its 7-6 record in 2010. Heaps decided to transfer. He didn't play in the bowl game. So now, Nelson is the man to lead this team into 2012,.
Offensive MVP: Riley Nelson, QB. Nelson came in for Heaps against Utah State and provided the spark needed to get a victory. He went 4-1 as a starter -- 5-1 if you count the Idaho win in which he got hurt and left the game. He finished the year with 1,467 yards passing and 16 touchdowns, and added 376 yards on the ground. The Cougars seemed to rally around Nelson, and that was a big reason for the improved play.
Defensive MVP: Kyle Van Noy, LB. Van Noy had a team-leading 10 tackles for loss, with five sacks, three interceptions, nine quarterback hurries and two forced fumbles. He finished with 58 tackles, and also saved the day in a win over Ole Miss.
Schedule
See main page: 2011 Schedule
Roster
See main page: 2011 Roster