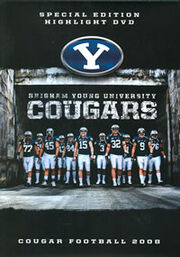 Special Edition Highlight DVD: Cougar Football 2008
Relive the 2008 BYU football season that saw the Cougars become one of just seven teams in the nation to win 10 games or more for the third- straight season, a feat last accomplished at BYU from 1983-85.
Follow the great games and moments as BYU rose to as high as No. 7 in the national polls before finishing the year ranked No. 16 in the BCS Standings.
Cougar Football 2008 is a season-long collection of game-by-game highlights produced by Mitchell Productions for Cougar Diary.
In addition, highlights from the 2006, 2007 and 2008 Pioneer Las Vegas Bowls are included on the DVD as a bonus.