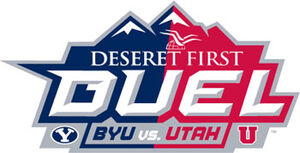 On September 13, 2007, Brigham Young University and the University of Utah announced the formation of a unique rivalry series between the schools. The series was officially named the Deseret First Duel and is presented by Deseret First Credit Union.
"The rivalry between the two schools has a long and storied tradition, said BYU Director of Athletics Tom Holmoe. Dr. Hill and I have been looking for ways to promote the positive things about this celebrated rivalry. Our hope is the Deseret First Duel will add excitement to our competitions."
The rivalry series includes competition in the 12 sports the two universities compete head-to-head during regular-season play.
The term Deseret refers to the original name of the territory of Utah (State of Deseret) and is an appropriate name for an athletic rivalry that dates back to the 1890s. The term Duel refers to a contest between two parties to decide a point of honor. Blending the two terms is the ideal name for a formalized series.
The Deseret First Duel uses a system that awards points to the winner of each head-to-head competition. A team trophy is awarded to the individual winner of each sport--football, basketball, softball, etc. Points won by the individual sports count toward each school's overall total. At the conclusion of each school year, a granite traveling trophy is be awarded to the overall rivalry series champion.
The Utah vs. BYU rivalry is one of the oldest and strongest in the country. In November 2005, the Wall Street Journal rated the rivalry the fourth best in college athletics. Thanks to a partnership with Deseret First Credit Union, the rivalry now has an official name and a traveling trophy to signify yearly supremacy. The Deseret First Duel sponsorship between the two universities and Deseret First Credit Union is for five years.