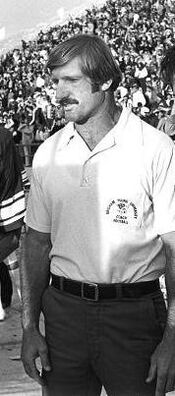 Fred George "Mad Dog" Whittingham (February 4, 1939 – October 27, 2003) was an American football linebacker in the National Football League for nine years on various teams including the Los Angeles Rams, the Philadelphia Eagles, and the New Orleans Saints. He played college football at Brigham Young University and California Polytechnic State University. After retiring from the NFL he coached at the NFL and at the college level for almost twenty years. He is also the father of current Utah head coach Kyle Whittingham.
College career
On October 29, 1960, Whittingham was one of the survivors of the crash of the Cal-Poly team plane in Toledo, Ohio as the Mustangs were returning to California from a game at Bowling Green. One of his surviving teammates was Ted Tollner, who would also later coach at Brigham Young University.
Coaching career
Throughout Whittingham's coaching career he held various assistant coaching positions in both the NFL and the college football ranks. After retiring from the NFL he began coaching at the high school level. In 1972, as the first-year head coach of the Alhambra (CA) Moors, Whittingham led the team to an 8-1 record and into a pre-CIF playoff game. He returned to Brigham Young University, his alma mater, in 1973 to coach under LaVell Edwards. He coached the linbackers and later became the defensive coordinator. After his time at BYU he left to coach in the NFL where he spent nine years with the Los Angeles Rams.
Personal life
Whittingham was born in Boston, Massachusetts on February 4, 1939. He was placed in state foster care until he was adopted by the Whittinghams, who lived in Warwick, Rhode Island, when he was 9 months old.
While at BYU Whittingham met and married Nancy Livingston, a cheerleader and BYU student from California. Together they have four sons and two daughters.
Later in life Whittingham converted to the Church of Jesus Christ of Latter-day Saints, the same church that his wife was a member of and the same church that runs BYU.