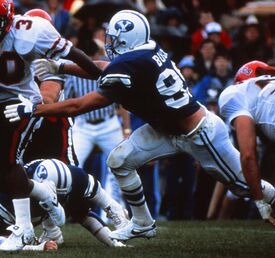 Number: 99
Position: Defensive Line
Height: 6-6
Weight: 270
Roster Years: 1985-1986
Hometown: St. Anthony, ID
Jason's parents are Sideny and Moeena Buck. He grew up in Michigan, Oregon and Idaho. He married to former Roxi Orr. He was recruited by Texas, Alabama, Ohio State, Arizona, Maryland, Kansas, Texas Tech, Illinois and Georgia Tech. He majored in physical education.
Before BYU
Lettered in football, basketball and track at South Freemont High School...was honorable mention All-America and first team all-conference as a quarterback and linebacker...coached by Murland Rydalch (Ricks).
Other College
Went to Ricks College (Rexburg, Idaho) to tru out as quarterback but ended up returning home to work...came back after putting on weight and was moved to defensive line...set school record for most sacks in a season (17) as a freshman...voted the freshman defensive player fo the year...was first team All-America as a sophomore...sleected as the top defensive player of the year nationally by J.C. Gridwire...set a national JC record for most quarterback sacks in a season (25)...was one of the most sought after junior college players in the nation...two-time All-ICAC first team selection...team was ranked sixth in the nation after losing in the last seconds of the Valley of the Sun Bowl...has be clocked in the 40 at 4.6 seconds.