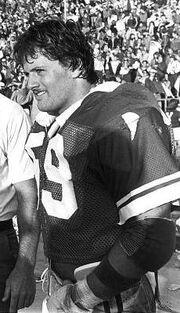 Kyle Whittingham (born November 21, 1959) is the head football coach of the University of Utah Utes. Prior to becoming the head coach at Utah, Whittingham served as Utah's defensive coordinator for ten seasons. He was named head coach of Utah after Urban Meyer left for the Florida Gators in 2004. He won AFCA Coach of the Year and the Paul "Bear" Bryant Award in 2008.
College Career
Whittingham played linebacker for the BYU Cougars from 1978 to 1981. In 1981 he earned first-team all-WAC and WAC Defensive Player of the Year honors. Whittingham was also named the defensive MVP of the 1981 Holiday Bowl. He played in all of the first four Holiday Bowls. In his first appearance, he played as a running back and the other three as a linebacker, during which he recorded 27 tackles. In 2009, he was inducted into the Holiday Bowl Hall of Fame.
He graduated from BYU in 1981 and went on to play linebacker for the New Orleans Breakers of the old USFL and the Calgary Stampeders of the CFL. He also played for the Los Angeles Rams' replacement squad in 1987.
Coaching career
Whittingham became a graduate assistant for BYU during the 1985 and 1986 seasons. In 1987, Whittingham was named defensive coordinator at the College of Eastern Utah. He coached there for a season before taking a job at Idaho State. After two seasons with Idaho State, Whittingham joined the Utah staff as defensive line coach, working alongside his father, Fred Whittingham. In the 1995 season, Whittingham replaced his father as the defensive coordinator, serving under both Ron McBride and Meyer until being named head coach in 2004.
Personal life
Whittingham was born on November 21, 1959 in San Luis Obispo, California. His father, Fred Whittingham, played linebacker in the NFL for nine years and then coached at the college and the pro level for almost twenty years.
Whittingham graduated from BYU with a bachelor's degree in educational psychology in 1982. In 1983, he married the former Jamie Daniels. Whittingham then earned a master's degree in professional leadership in 1986. Whittingham and his wife now have four children: Tyler, Melissa, Alex and Kylie.
Whittingham is a member of The Church of Jesus Christ of Latter-day Saints.