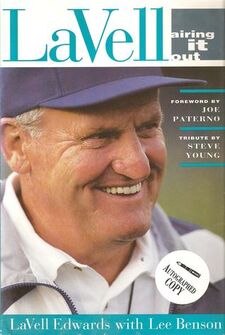 Lavell Airing it out
is a book written by Lee Benson. It has a forward by Joe Paterno and a tribute by
Steve Young
. It has several black and white photographs throughout book, a biography of the legendary BYU coach. Edwards coached teams won sixteen conference championships and the
1984 national championship
.
Lavell Edwards, a name synonymous with great football in Utah, tells it all, airs it out, lets you in the loop with this book of inside info about the game of football at Brigham Young University.
Job Security: "Someone once told me that whenever you had a winning season you could count on three more before they'd fire you. I guess I can count on three more seasons."
"The quarterbacks who have thrived at BYU have all had great understanding. That understanding, that feel, is an innate thing, something I think you either have or you don't. You can't really coach it. If you don't have it, you can become an adequate quarterback, and possibly a pretty good one in the right system. If you don't have it, you can really do things in a system that calls for those kinds of skills." -pg 68.
"Some years we've had as many as half a dozen 5th year senios starting for us who have hardly played before. Some of our very best players over the years, in terms of honors, haven't started, or played very much at all, until their junior or senior seasons. In the case of returned missionaries, they often may not start until five or six years after they first arrive as freshmen. Many of our top receivers, in particular, have spent plenty of time being anonymous, players such as Chuck Cutler, Andy Boyce, David Mills, and Scott Phillips to name a few." -pg 78
Hardcover: 191 pages
Publisher: Shadow Mountain; First Edition edition (February 2000)
Language: English
ISBN-10: 1573450685
ISBN-13: 978-1573450683