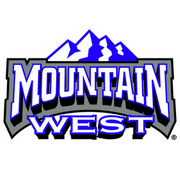 The Mountain West Conference (formally abbreviated MW since July 2011; informally MWC), popularly known as the Mountain West, is the youngest of the college athletic conferences affiliated with the NCAA's Division I FBS (formerly I-A). The MWC officially began operations in July 1999. Geographically, the MW covers a broad expanse of the western United States, with member institutions located in California, Colorado, Idaho, Nevada, New Mexico, Texas, and Wyoming, and has announced expansion into Hawaii in 2012. The conference introduced a new logo for the 2011 season to reflect on the changes. Craig Thompson has served as Commissioner of the MW since its founding in 1999.
Charter members included Air Force, BYU, Colorado State, New Mexico, San Diego State, UNLV, Utah, and Wyoming. Before forming the Mountain West Conference, seven of the eight charter members had been longtime members of the Western Athletic Conference; half were WAC charter members at its formation in 1962 - UNLV had only joined the WAC in 1996.
The WAC expanded from 10 to 16 universities in 1996, absorbing three teams from the defunct Southwest Conference (SWC) (Rice, SMU, and TCU), adding two from the Big West (San Jose State and UNLV), and Tulsa from the Missouri Valley. After three football seasons, most of the pre-expansion members decided that the new WAC was oversized, and departed to form the Mountain West Conference. The MWC added a ninth team in 2005: TCU, also a former WAC and SWC member, which joined after four seasons in Conference USA.
On June 11, 2010, Boise State University agreed to join the conference as its tenth member. On June 17, 2010, Utah announced it would be leaving the Mountain West to join what would become the Pacific-12 Conference. On August 18, 2010, amidst rumors that Brigham Young was considering leaving the Mountain West to go independent in football and rejoin the Western Athletic Conference in all other sports, the Mountain West Conference officially extended invitations to California State University, Fresno and the University of Nevada, Reno. Fresno State and Nevada accepted and would become the tenth and eleventh members of the league. BYU announced on August 31, 2010 that it would leave the Mountain West Conference and go Independent in football and become a member of the West Coast Conference (WCC) in other sports starting in 2011.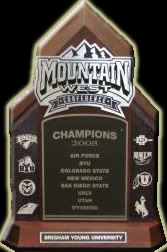 Championships
1999
Brigham Young

Colorado St. Utah

5-2

5-2 5-2

2000
Colorado St.
6-1
2001
Brigham Young
7-0
2002
Colorado St.
6-1
2003
Utah
6-1
2004
Utah
7-0
2005
TCU
8-0
2006
Brigham Young
8-0
2007
Brigham Young
8-0
2008
Utah
8-0
2009
TCU
8-0
2010
TCU
8-0