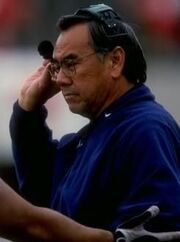 Norman Chow (Chinese; pinyin: Zhōu Yǒuxián, born May 5, 1946) is an American football coach and former player. He is currently the head football coach at the University of Hawaiʻi at Mānoa, a position he assumed in December 2011. Chow previously held the offensive coordinator position for the Utah Utes, UCLA Bruins, the NFL's Tennessee Titans, USC Trojans, NC State Wolfpack, and BYU Cougars.
Chow won the 2002 Broyles Award as the nation's top collegiate assistant coach. He also was named the 2002 NCAA Division I-A Offensive Coordinator of the Year by American Football Monthly and was named the National Assistant Coach of the Year in 1999 by the American Football Foundation. He is well-known for developing quarterbacks such as Jim McMahon, Steve Young, Ty Detmer,
Education and playing career
Edit
Chow, a native of Honolulu, and an alumnus of Punahou School, played college football for the University of Utah. Chow was a 2-year starter and a three-year letterman offensive guard for the Utes. In his senior season, Chow was named to the All-WAC first team and gained All-America honorable mention honors. He then played briefly in the Canadian Football League, for the Saskatchewan Roughriders, before an injury ended his professional athletic career. He was selected to Utah's All-Century Team.
He received his master's degree in special education from Utah and a doctorate in educational psychology, Ed.D., from Brigham Young University in 1978.
In 1982, head coach LaVell Edwards named Chow as principal offensive play-caller. He continued to call all the offensive plays until he left the program after the 1999 season. In 1984 BYU won the consensus national championship. He became quarterbacks coach in 1986, and was officially given the title of offensive coordinator in 1996. During his 27 years with BYU, they had a record of 244–91–3.
NCAA Awards
Edit
1999 National Assistant Coach of the Year by the American Football Foundation

1996 NCAA Division I-A Offensive Coordinator of the Year by American Football Monthly

1993 National Assistant Coach of the Year by Athlon in 1993

1984 National Championship (BYU)

Utah's All-Century Team as an offensive lineman[18]