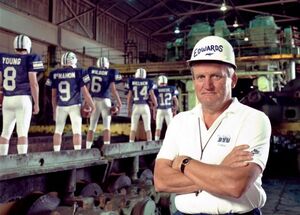 Volumes have been written about BYU's passing game and great quarterback tradition. BYU quarterbacks own the NCAA record books and have won the Davey O'Brien award for best quarterback in the nation four times with one runner-up and one third place finish. BYU's quarterback factory has also produced a Heisman Trophy winner in Ty Detmer and many other Heisman Trophy candidates. Quarterbacks Gifford Nielsen, Marc Wilson, Jim McMahon and Steve Young have been inducted into the College Football Hall of Fame in recent years, and several other BYU quarterbacks will likely be added to the list. In the last 20 years, two different BYU quarterbacks (more than any other school) have led their teams to NFL championships (Jim McMahon and Steve Young).
On seven different occasions, BYU quarterbacks have finished as the NCAA total offense leaders. Three of the top five career passing efficiency leaders are from BYU.In the 29 years LaVell Edwards coached at BYU, the Cougars have led the nation in passing eight times and finished in the top five 17 times. In 2006 Mountain West Conference Player of the Year quarterback John Beck was the No. 4 passer in the nation as he helped lead a resurrection of the storied BYU offense of old. The tradition continues with current quarterback Max Hall who enters was the nation's top-ranked sophomore quarterback in his first season as the starter and was the nation's No. 6 overall passer as a junior in 2008.
When Edwards was named head coach at BYU in 1972, he realized he couldn't compete initially with the big schools for the big-time athletes. So he installed a passing attack that allowed smaller, less physical-type players to win with finesse, rather than muscle.
The offense worked, and the Cougars began passing the competition. BYU became one of the first universities to use the forward pass consistently and effectively in a time when throwing the football was a mere alternative to running the ball.
The pass has been good to BYU. Prior to Edwards, the program had won a total of 171 games and had only 16 winning seasons. Since 1972, BYU has won or tied for the WAC or MWC championship 20 times, played in 26 post-season bowl games and won the national championship in 1984.